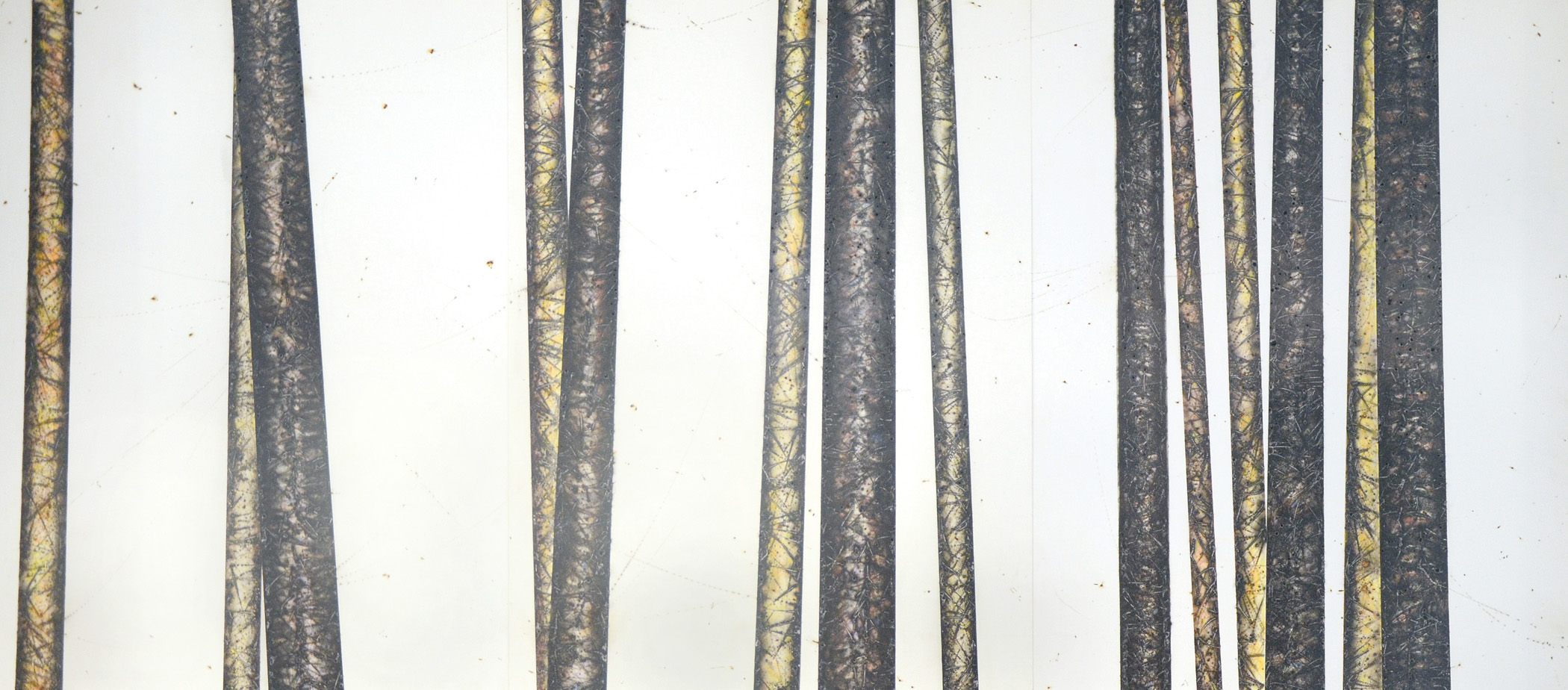 Wiscasset Trees
Date: 2013
By: Thomas Sayre
Medium: Mixed media
Thomas Sayre grew up in Washington, DC, in the shadow of the Washington Cathedral. He attended the University of North Carolina at Chapel Hill on a Morehead Scholarship and majored in English and studio art. He graduated summa cum laude in 1973. He then moved to Ann Arbor, Michigan, where he was a Michigan fellow with a three-year Ford Foundation Grant to make sculpture at the University of Michigan. In 1975 Sayre attended the master of fine arts program at the Cranbrook Academy of Art.
In 1977 Sayre moved back to North Carolina and began P.U.S.H., a nonprofit organization dedicated to improving institutional environments for mentally impaired individuals. P.U.S.H. eventually spread to over 16 states.
In 1981 Sayre and architect Steven D. Schuster founded Clearscapes, a multi-disciplinary design firm with an office and studio in Raleigh. Clearscapes provides building design, product design, and both large and small-scale artwork. Combining the hands-on process of the sculpture studio with architectural services, the firm is unique in its combination of talents.
Sayre continues to work actively as a sculptor, working on commissions nationally and internationally. His three "earthcast" ellipses are part of the public art on display on the grounds of the North Carolina Museum of Art, and he designed the marble wall, which contains 1.1 million marbles, at Raleigh's downtown Marbles Museum. He also collaborated on the oak tree "shimmer" wall on the exterior of the Raleigh Convention Center. His work can also be found in public spaces in cities such as Nashville, Tennessee; Denver, Colorado; Clearwater, Florida; Oklahoma City, Oklahoma; and Calgary, Alberta. He has exhibited his work in a number of private galleries, as well as the St. John's Museum, the Waterworks Gallery, and the Southeastern Center for Contemporary Art. In 1995 Sayre received a NEA/SEA Fellowship.
Thomas Sayre received the North Carolina award in 2012.