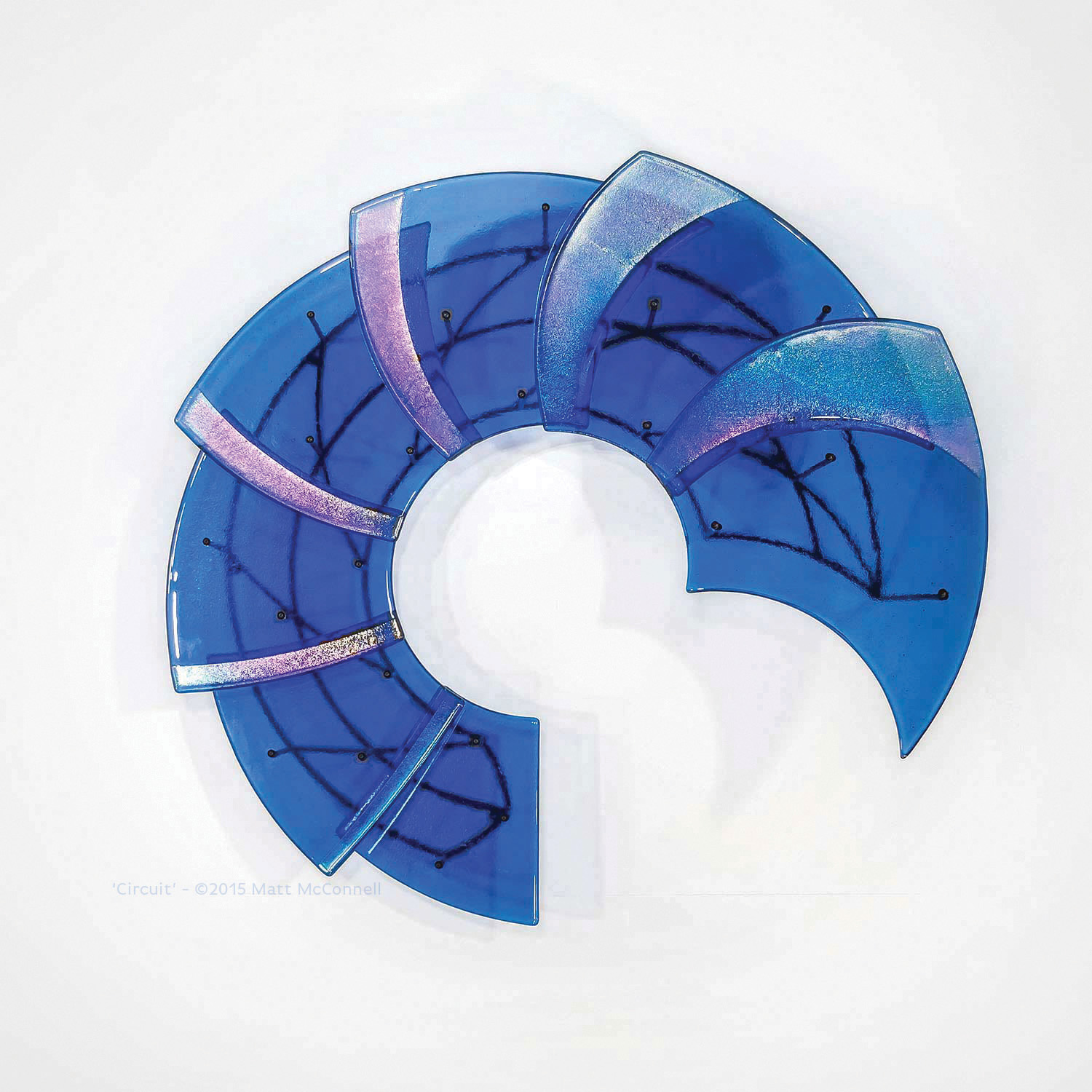 Circuit
Date: 2015
By: Matt McConnell
Medium: Steel and glass
Matt McConnell is a sculptor and designer born and raised in Charlotte, NC. In 1990 he moved to Raleigh to attend NC State University, graduating with degrees in architecture and industrial design.
After graduation he worked for five years as an apprentice and studio manager for artist Thomas Sayre at Clearscapes in Raleigh. He left Clearscapes in 2001 to found McConnell Studios, which is located in a downtown Raleigh warehouse. Since then, McConnell has created large-scale sculpture, architectural installations, and lighting design projects, including hundreds of commissions, both functional and nonfunctional.
McConnell has always been fascinated with geometry and natural form created with repeated systems. A consistent focus of his work is capturing and expressing the energy of time, motion, and invisible forces, such as wind and gravity. Expressions of this vision often include transformation and repetition, where the rhythm and flow of the elements intertwine to create three dimensional forms, some inspired by the helix of a DNA molecule. Most of McConnell's projects involve direct coordination and collaboration with architects, engineers, and general contractors. Part of his goal is to bring creative vision into his projects, and sharing the energy of the design process with clients and the community helps to achieve that goal.
McConnell designs and creates products of all scales, from hand-held awards and residential lighting to large-scale public artwork. He uses a wide variety of materials and fabrication systems, including concrete, steel, fiberglass, wood, glass, and many other materials. Some of his past projects include a ceiling-mounted atrium sculpture for DCH Regional Medical Center (Tuscaloosa, Alabama), sculptural fabric lighting installations for the dining hall at Alabama State University, and a 6,000 pound canopy with an in-building drainage system for Duke University's Student Union. He has completed many private and corporate commissions for clients such as Skyhouse Raleigh, Lenovo, Royal Caribbean, Omni Hotel, and the North Carolina Museum of Art.