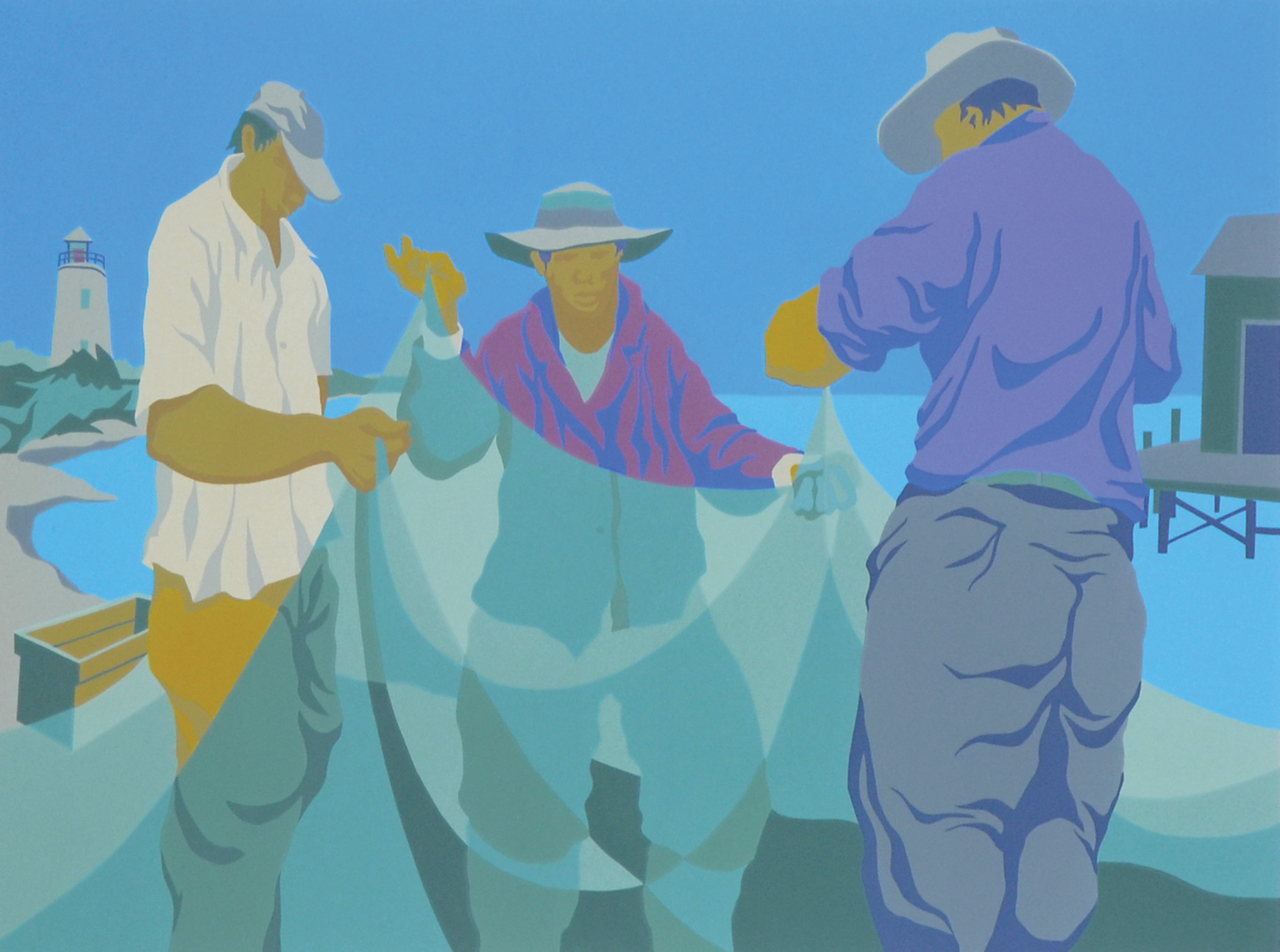 Mending Nets: Afternoon
Date: 1977
By: Claude Howell
Medium: Lithograph
Claude Howell was born in Wilmington, North Carolina, in 1915. With no formal art education, he became one of North Carolina's most celebrated and distinguished painters and was part of an artistic renaissance in North Carolina's coastal region. His talent was recognized at a young age after he drew the interiors of well-known buildings around his hometown. He trained under the eccentric and free-spirited English-born artist, Elizabeth Chant, who had moved to Wilmington from Minnesota in 1922, and for eight years (1922 through 1930) ran a studio where she painted and taught drawing, painting, batik, and design classes. Howell also traveled extensively and spent time in New York City, where he mingled with major figures in the art world, and in art colonies such as Charles Rosen's in Woodstock, New York.
Howell is best known for his broad, flat-color paintings depicting life in coastal North Carolina. He believed in painting what he knew, a philosophy that defined his career as a painter and educator. He chronicled his surroundings, both people and places, throughout his career. His favorite locations were the Wilmington and Wrightsville Beach areas and Ocracoke Island. To support his painting, Howell worked as a typist at the Atlantic Coast Line Railroad until he founded the Department of Art at Wilmington College, now known as The University of North Carolina at Wilmington. He served as chair of the Art Department until his retirement in 1981. He retired from painting in 1985 for health reasons.
Howell traveled the world extensively and was known for his quick wit. He chronicled his life by writing detailed diaries, which he illustrated with pen and ink drawings. He also compiled a 4×5 card collection of the history of art in the world, a project he continued until his death. For his achievements in the arts, Wake Forest University awarded Howell an honorary doctorate degree in humanities. His work has been featured in the Metropolitan Museum of Art, the Corcoran Gallery, the Mint Museum, and the High Museum of Art. His work has also been featured in several retrospective shows at institutions such as the North Carolina Museum of Art and the Cameron Art Museum.
Claude Howell received the North Carolina Award in 1985.