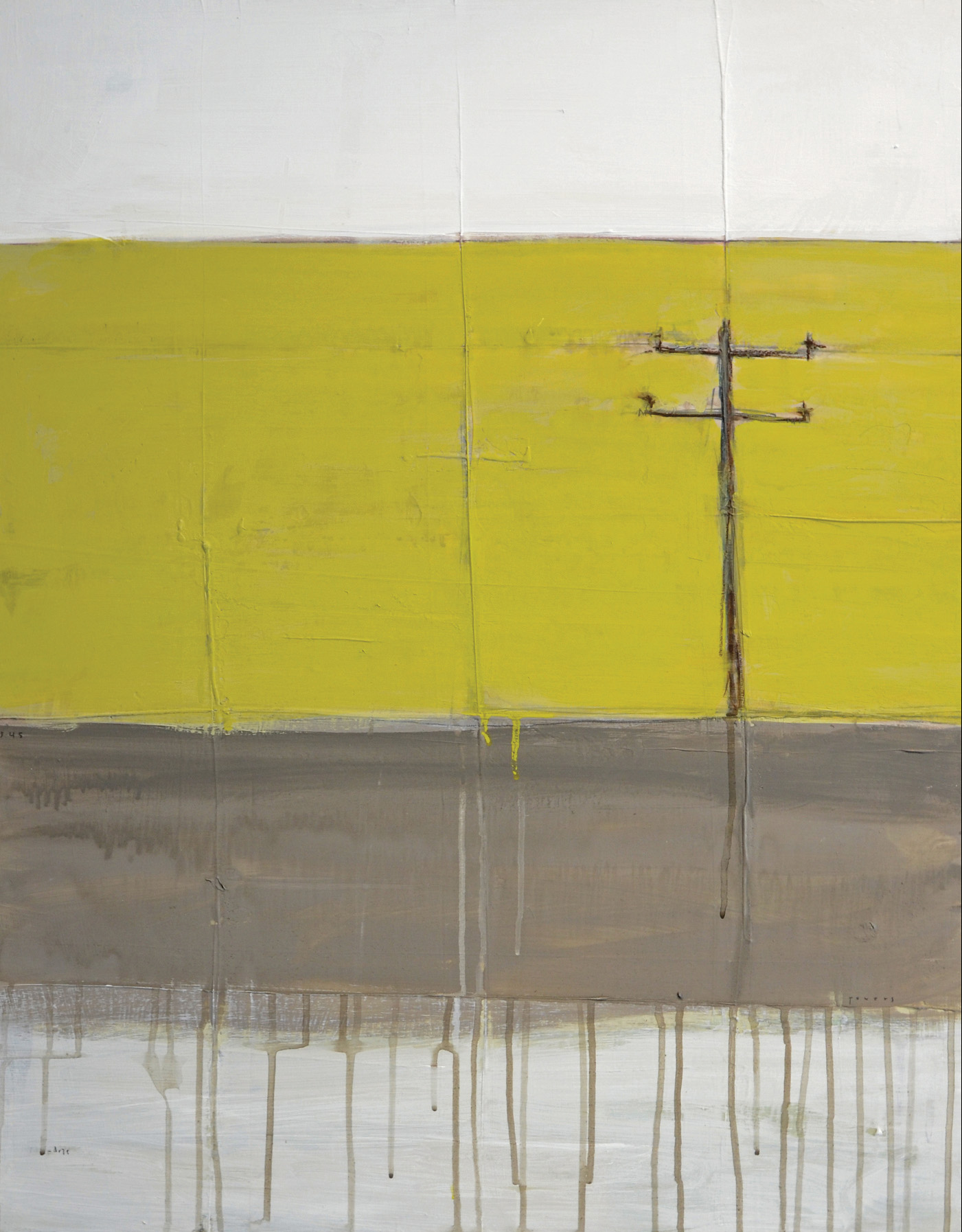 Utility Pole
Date: 2013
By: Sarah Powers
Medium: Mixed media
Sarah Powers graduated from the Rhode Island School of Design in 2000 with a bachelor of fine arts in ceramics. She worked in clay in her earlier years, creating sculptural forms, but shifted her focus in recent years to 2-D mixed media works. Inspired by the flat and minimal landscape of her childhood home, she creates works that reflect the bare industrial and agricultural nature of those surroundings. Beginning with a collage of photographs and drawings, she begins a process of layering and masking the imagery beneath with various mediums. The final result is a subtle landscape intersected with distinct planes and bold linear elements.
In addition to being a well-regarded painter, Sarah Powers has been a respected voice and advocate for Raleigh's art community since 2005. A strong supporter of emerging artists, she has been executive director of Visual Art Exchange (VAE) since 2006. VAE is a nonprofit organization that provides opportunities for visual artists, and increases community awareness, appreciation, and support for North Carolina artists. Powers also chaired the Raleigh Arts Commission from 2011 to 2013. As a Downtown Raleigh booster, she has served as a board member of the Downtown Raleigh Alliance (2013-2015) and as coordinator for SPARKcon, one of Raleigh's largest arts festivals. In 2009 she was awarded a Regional Artist Project Grant from the United Arts Council of Raleigh and Wake County.
Powers's work has been featured in galleries across the country, including the Sarah Doyle Gallery at Brown University, the Rhode Island RISD Works, the Mahler Gallery in Raleigh, and Artspace in Raleigh. Her work is also included in many corporate and private collections.