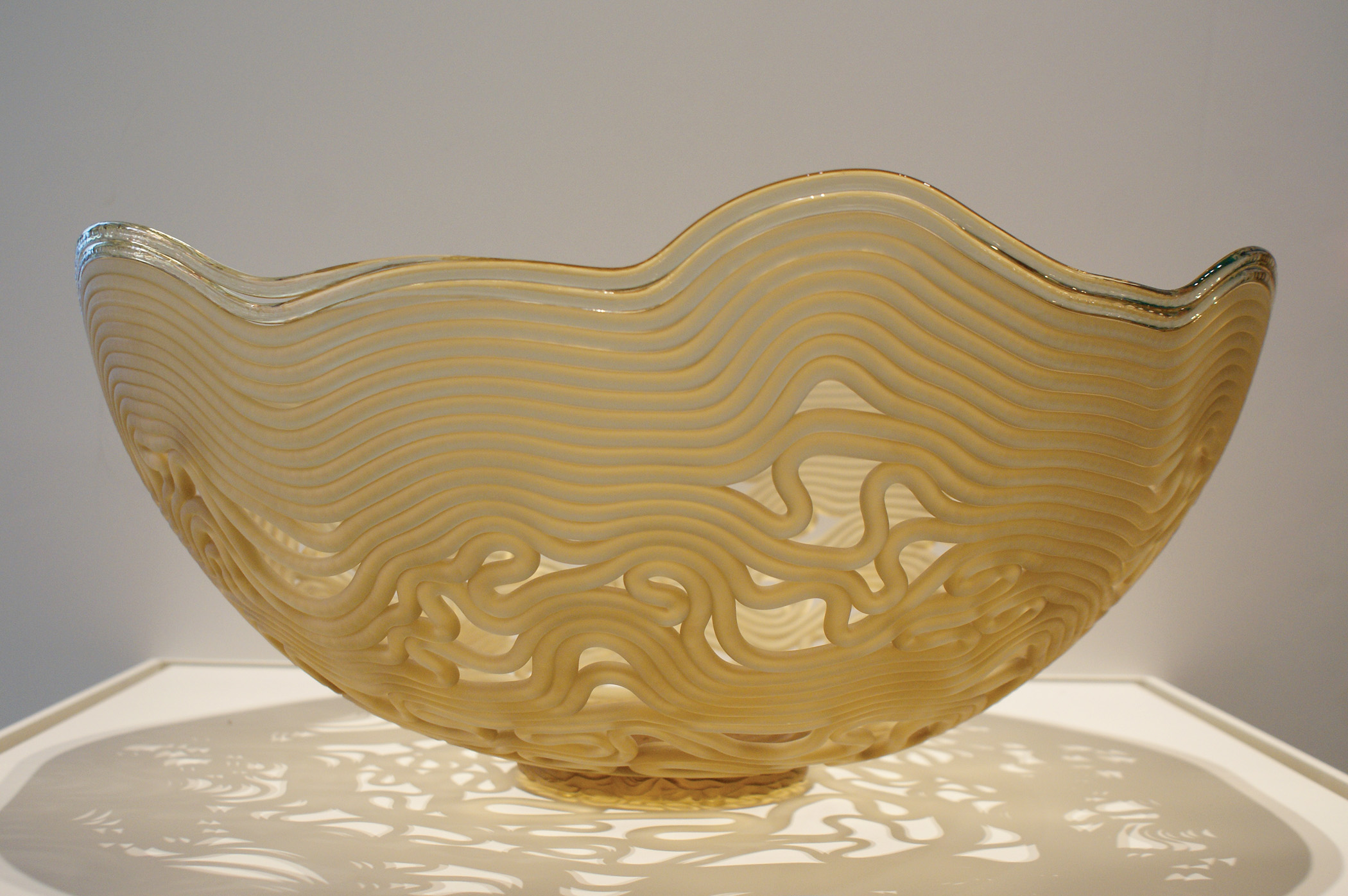 Arabesque
Date: 2007
By: Mark Peiser
Medium: Cold glass
Mark Peiser, the first resident glass craftsman at Penland School of Crafts, North Carolina, was born in Chicago, Illinois, in 1938. He received his bachelor of science in design from Illinois Institute of Technology, Chicago, in 1961. He studied classical music and engineering, and began his career in industrial design. In 1967 Peiser became part of the evolving studio glass movement. He has since been recognized for his uniquely individualized approaches to pushing the boundaries of glass and also for his lifetime accomplishments. His work stems from his love of the possibility of the material and the forms it takes.
Peiser's work is in the collections of numerous museums, including the Art Institute of Chicago, the Chrysler Museum, the Cooper-Hewitt National Design Museum, the Mint Museum of Craft and Design, the National Museum of American History of the Smithsonian Institution, La Galerie Internationale du Verre, the Hokkaido Museum of Modern Art, and the Tokyo Museum of Modern Art. His work is also in the collections of many institutions and private collections. In 1988 Peiser was elected an honorary fellow of the American Craft Council, and in 1999 he became a lifetime member of the Glass Art Society.
Peiser has taught at Alfred University, Haystack Mountain School of Crafts, Pilchuck Glass Center, Rochester Institute of Technology School for American Crafts, Toledo Museum of Art, Sheridan College School of Design, and the University of California. In 1990 and 1995 he was awarded a Gold Prize at the prestigious International Exhibition of Glass Craft in Kanazawa, Japan, and in 2004 he received a Lifetime Achievement in Art from the Art Alliance for Contemporary Glass.
Peiser lives and works in Penland, North Carolina.
Mark Peiser received the North Carolina Award in 2009.