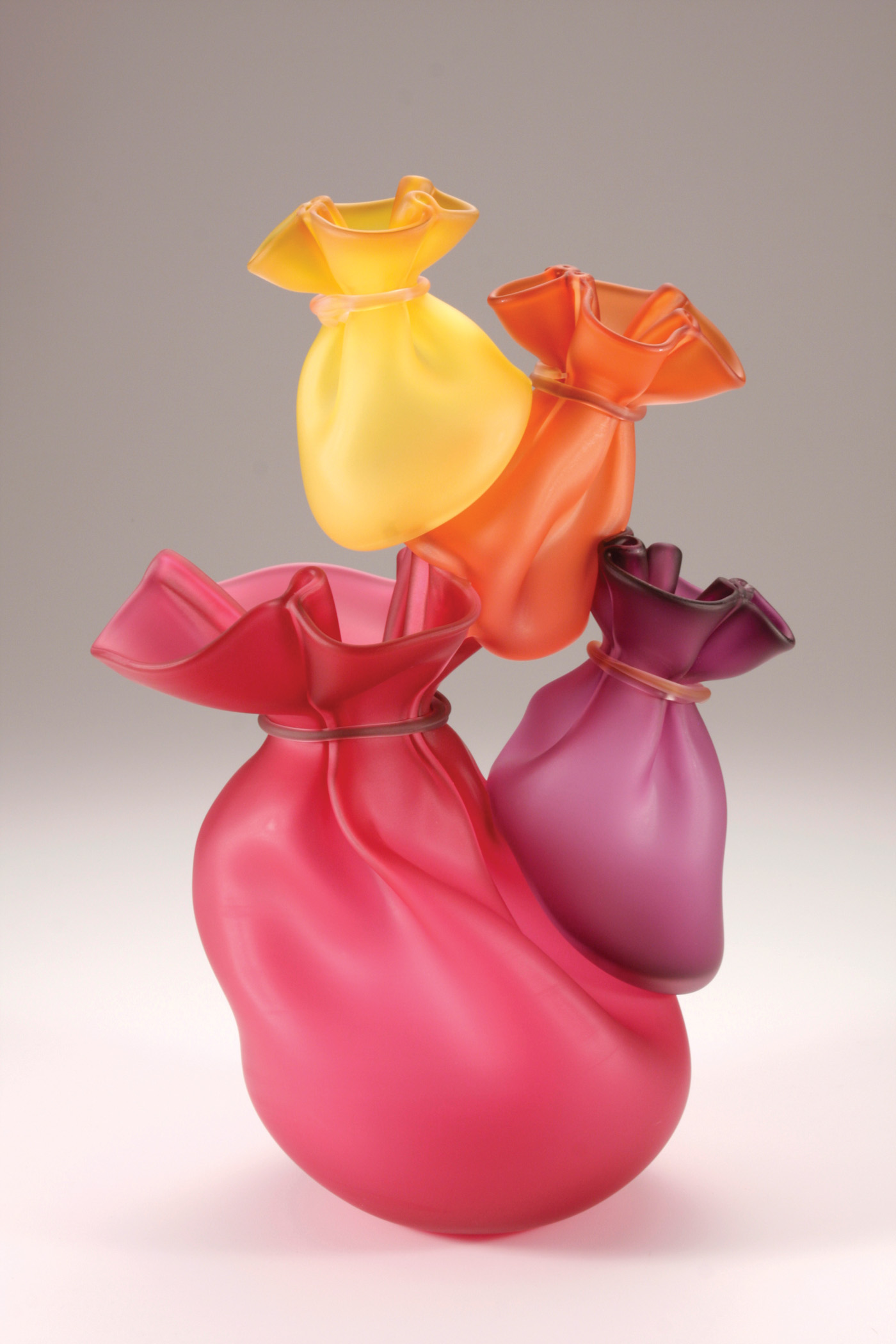 Arco Bags
Date: 2012
By: John Littleton and Kate Vogel
Medium: Glass
John Littleton and Kate Vogel are American studio glass artists who have worked collaboratively since 1979. They live in Bakersville, a small town in the Blue Ridge Mountains of North Carolina. Littleton grew up in Madison, Wisconsin, and was greatly influenced by his father, Harvey Littleton, regarded by many as the father of studio glass in America.
Glass was not the first medium of choice for Littleton. After majoring in photography at the University of Wisconsin-Madison, he began to work with glass. He began collaborating with Kate Vogel, who had given up her studies in two dimensional art in favor of glass. Their earliest collaborations were the popular bag forms, which were inspired by the ability glass has to retain the appearance of hot fluid after cooling into a solid. Recently their work has become a series of arms and hands cast in amber colored glass. They have also become known for their series of functional glass and wrought iron side tables.
Littleton and Vogel have exhibited in shows featuring their work regionally and nationally. Their works in glass are in the collections of the High Museum of Art in Atlanta; the Mint Museum of Art in Charlotte; the St. Louis Art Museum; the New Orleans Museum of Art; the Milwaukee Art Museum; the Glasmuseet Ebeltoft in Denmark; the Glasmuseum Frauenau in Bavaria, Germany; and the Museum of Contemporary Design and Applied Arts in Lausanne, Switzerland.