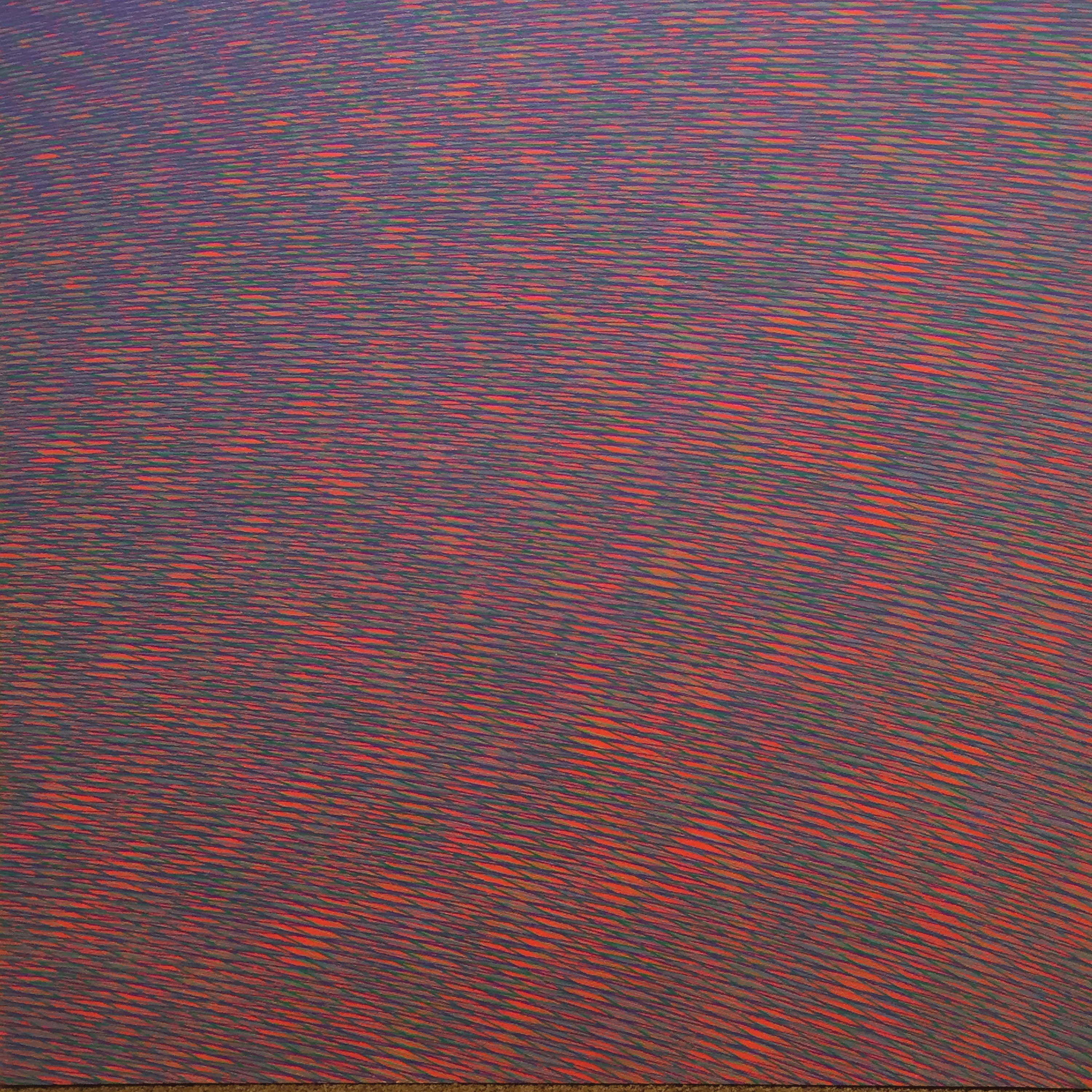 Blue Violet Line System
By: Richard Kinnaird
Medium: Acrylic on panel
Richard Kinnaird was born in Buenos Aires, Argentina. He graduated from Carleton College, a small liberal arts school in Minnesota, and attended the Art Institute of Chicago. He received his master of fine arts from the University of Illinois, Champaign-Urbana. Kinnaird joined the faculty at UNC-Chapel Hill in 1964, where he taught painting and drawing and ultimately became professor emeritus, retiring in 2004. During his 40-year career at UNC, Kinnaird taught and mentored several generations of graduate students and working regional artists.
As a modernist abstract painter, Kinnaird was consistently thoughtful of how shape, line, texture, and color blend and interact. His striking large scale works often contain optical illusions, playful patterns, and various collaged elements. Kinnaird used various media in his work, including acrylic, laser cut metal, burnt paper, and polycast resin. He had an affinity for repetition and op art, and many of his paintings use a system of overlaid, multi-color parallel lines to produce swirling compositions of lines and geometric shapes in vibrant colors. Many of these works were produced with a compass-like device that Kinnaird designed himself.
Kinnaird's work has been featured in numerous solo exhibitions and invitational shows. He won numerous awards, including first place in the tenth annual Artists Exhibition at the North Carolina Museum of Art in 1977 and the gold medal at the 40th annual Artists Exhibition in Raleigh. In 1957 Kinnaird was featured in the No Jury art exhibition in the Chicago Art Institute, sponsored by the city of Chicago. His paintings are in the collections of the R.J. Reynolds Corporation in Winston-Salem, the General Telephone Corporation in Charlotte, the Weatherspoon Art Gallery in Greensboro, the Ackland Art Museum in Chapel Hill, the North Carolina Museum of Art in Raleigh, and the Museum of Modern Art in Seattle.