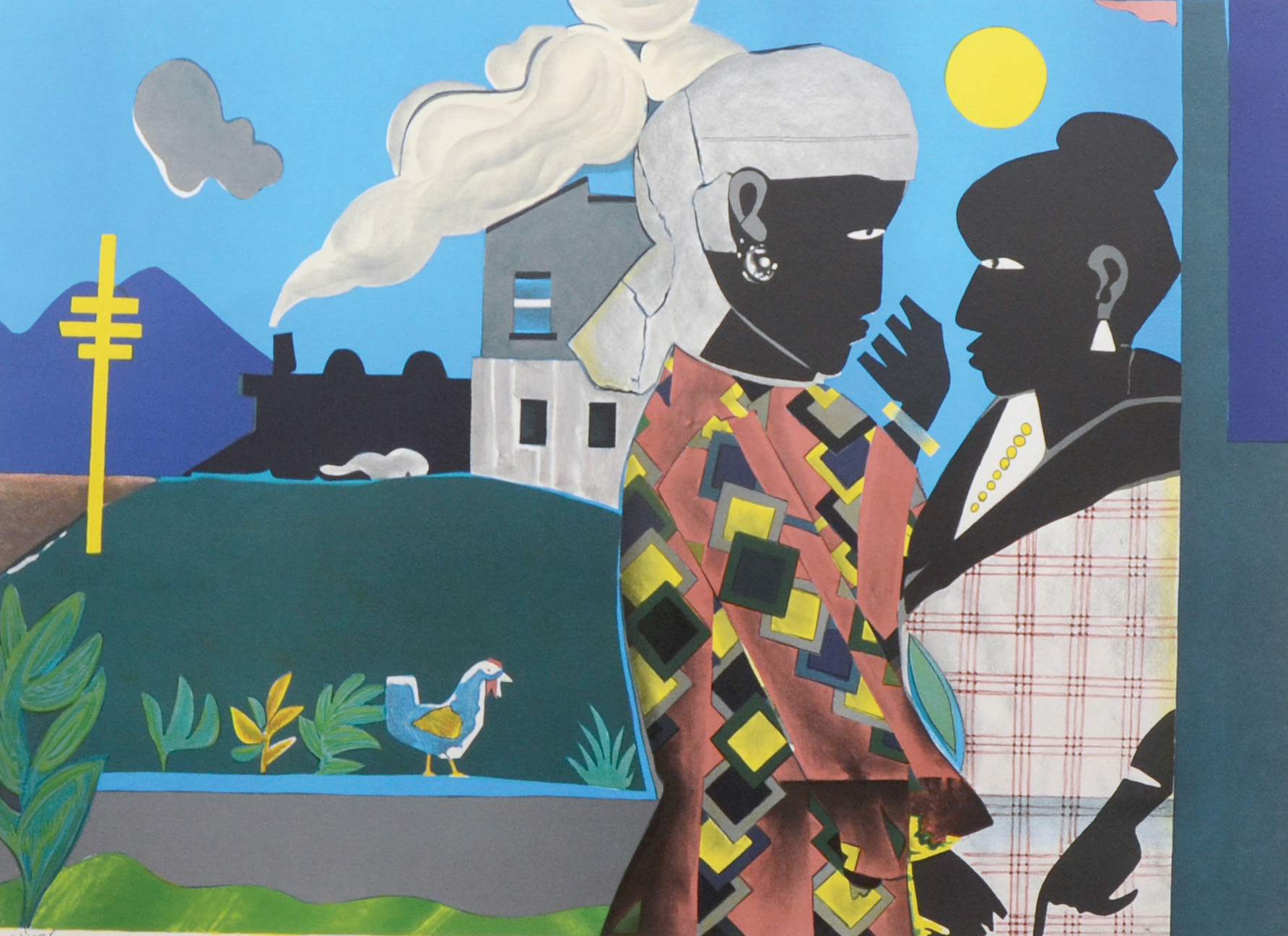 Conversation
Date: 1977
By: Romare Bearden
Medium: Lithograph
Romare Bearden was born in Charlotte, North Carolina, in 1911. At a young age he moved with his family to New York City, where he grew up in the midst of the Harlem Renaissance, and graduated from NYU in 1935. His family was active in local politics, and their home was a meeting place for luminaries such as writer Langston Hughes, painter Aaron Douglas, and musician Duke Ellington, all of whom were major influences on Bearden's life and art. Bearden also maintained his connections to his North Carolina relatives, whom he visited frequently, inspiring what he referred to as "Southern themes" in his work.
Bearden is recognized as one of the most creative and original artists of the 20th century. He experimented with many different mediums and artistic styles, but is best known for his richly textured collages. In 1968 both Time and Fortune magazines featured Bearden's collages on their covers.
Although he experimented with different mediums and styles, Bearden felt that he grew as an artist by virtue of life experiences and not by learning new techniques. His art captured images from the people and places of his life, and he felt that as an African American artist he had a responsibility to incorporate social and political commentary into his work. He used his influence to encourage other African American artists to become involved in the civil rights struggle, and was a founding member of the Harlem-based group known as The Spiral, the purpose of which was to discuss the role that artists could play in the civil rights movement.
Bearden was an innovative artist with diverse interests. He wrote music for Dizzy Gillespie and designed costumes and sets for the Alvin Ailey American Dance Theater.
Bearden's work is represented in collections including the Metropolitan Museum of Art, the Whitney Museum of Modern Art, the Philadelphia Museum of Art, the Museum of Fine Arts, Boston, and the Studio Museum in Harlem. He was the recipient of many awards and honors throughout his lifetime, including the Mayor's Award of Honor for Art and Culture in New York City (1984) and the National Medal of Arts, presented by President Ronald Reagan (1987). He received honorary doctorates from Pratt Institute, Carnegie Mellon University, Davidson College, and Atlanta University. His hometown of Charlotte honored Bearden in 2013 by creating Romare Bearden Park, the design of which was based on Bearden's collages and paintings.