Marcia H. Armstrong of Smithfield Nominated as Vice-President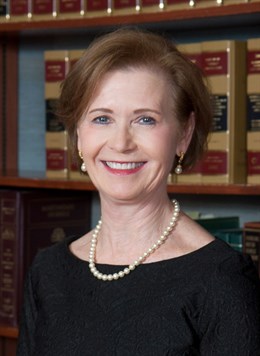 Smithfield Attorney Marcia H. Armstrong has been selected by the State Bar's Nominating Committee to stand for election to the office of vice-president of the North Carolina State Bar. The election will take place in October at the State Bar's annual meeting. At that time, Greensboro Attorney Barbara R. Christy will assume the office of president, and Salisbury Attorney Darrin D. Jordan will also stand for election to president-elect. 
Armstrong earned her bachelor's degree from Salem College and her JD from the Wake Forest University School of Law. 
Armstrong was a member of the North Carolina State Bar Council from 2011 – 2019, during which time she served as chair of the Legislative Committee as well as the Opioid Summit Special Committee, and was a vice-chair of the Grievance Committee.
A partner of The Armstrong Law Firm, PA, Armstrong has been a board-certified specialist in family law since 1989. She is a frequent speaker and course planner at law schools and at continuing legal education programs sponsored by the North Carolina Bar Foundation. She has written and presented manuscripts on a wide range of family law topics. 
Armstrong is a past-president of the state chapter of the American Academy of Matrimonial Lawyers (AAML), which is recognized as the top family law association in the country. She is a past-president of the Johnston County Bar Association and the 11th Judicial District Bar. In 2011 she received the Sara H. Davis Excellence Award from the North Carolina State Bar Board of Legal Specialization. She was recognized in 2010 as a Citizen Lawyer by the North Carolina Bar Association and has served in the past on the association's Board of Governors and as chair of the Family Law Section. In 1997, Armstrong was awarded the Distinguished Service Award from the North Carolina Bar Association for her service to the Family Law Section. Additionally, Armstrong received the Gwyneth B. Davis Award in 1995 from the North Carolina Association of Women Attorneys. She is currently an advisory member on the State Bar's Ethics and Legislative Committees. 
Armstrong practices law with her husband, Lamar; her son, Lamar III; her daughter, Eason Keeney; and her son-in-law, Daniel Keeney. Lamar's wife, Beth, is a second grade teacher. Armstrong's other son, Hinton, is a biochemical engineer, and his wife, Anna, is a pharmacist. They reside in Smithfield. Altogether, there are five grandchildren, all under the age of four.
Back to top