Alice Neece Mine Installed as Secretary/Treasurer
Thursday, October 25, 2018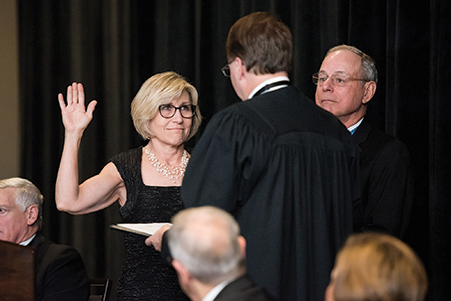 Alice Neece Mine, long-time assistant executive director of the North Carolina State Bar, has been installed as the agency's secretary/treasurer, succeeding L. Thomas Lunsford, II, who had held the post since 1992. Ms. Mine was sworn in by North Carolina Supreme Court Justice Mark Martin at the State Bar's Annual Dinner on Thursday, October 25, 2018.
Ms. Mine is a summa cum laude graduate of North Carolina State University. She earned her law degree from the University of North Carolina at Chapel Hill and was admitted to practice in 1985.
After eight years of private practice in Durham, she accepted a position as the State Bar's assistant executive director in 1993. Since that time, she has served as senior ethics counsel and as director of the Boards of Legal Specialization, Continuing Legal Education, and Paralegal Certification.
A nationally recognized expert on the subject of professional ethics, Ms. Mine also taught professional responsibility as an adjunct professor at the Duke University Law School for many years, and served on the American Bar Association's Standing Committees on Legal Specialization and Professional Discipline. She has also served on the Board of Directors of the University of North Carolina School of Law's Alumni Association.  
Back to top